Education & Outreach Programs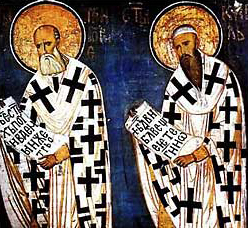 "Looking East" First-Saturday Lectures on Eastern Catholicism
St. John Paul II called for the Church to "breathe with both lungs," incorporating the rich traditions of both the Christian East and West. What does this mean? Join Rev. Father Kevin Kennedy, our parish, and guests for a series of catechetical lectures on the First Saturday of each month at 1 p.m. to learn more. And be sure to come early to experience the Russian Byzantine Divine Liturgy first-hand at 10 a.m., followed by our fellowship luncheon. Vespers follows in the early evenings.
Eastern Christian Speakers Bureau
If your group, class or organization would like to learn about Eastern Christianity , whether in general, or about more specific topics (e.g., icons, liturgy, spirituality, prayer), we can put you in contact with the right person for the job! We also schedule guided tours of our church and its liturgy.
Literature
We have produced several short, informative pamphlets explaining various aspects of Byzantine Christian life and practice. These are available singly, or in master versions with a license for reproduction.