Second-Saturday Lectures
Join us for "Looking East," our Second-Saturday Lectures on Eastern Catholicism!
St. John Paul II called for the Church to "breathe with both lungs," incorporating the rich traditions of both the Christian East and West.
What does this mean? How is it done?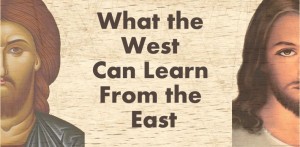 Join Father Kevin Kennedy, our parish, and guests for a catechetical lecture on the Second Saturday of each month at 11 a.m. to learn more. We have free parking in the St. Monica's parking lot. Everyone is welcome!
Recordings of past lectures, including special-topic conversations with Father Kennedy, will be posted below, as well as on our OLF YouTube Channel, whenever possible. (The best way to be sure you don't miss one is to attend live, each Second Saturday!)